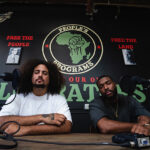 'Hella Black Podcast' deep dives into Oakland's Black history
A captivating new podcast and multimedia project about Black Oakland, Tales of The Town tells stories spanning 100 years of Oakland history. The 12-episode series takes listeners on an odyssey rooted in social justice, exploring the Great Migration, activism at Merritt College, music, gentrification and more. 
The hosts, Abbas Muntaqim and Delency Parham, are co-creators of Hella Black Podcast and co-founders of the People's Programs. Award winning documentarian Maya Cueva serves as senior producer. An accompanying album, also titled Tales of the Town, was released recently and features artists such as G-Eazy, P-Lo and ALLBLACK, among others. 
The first song released on the project, "F*CK 12" FREESTYLE, features Vallejo rapper LaRussell and Oakland rapper Guadpad 4000. For Guadad 4000, a West Oakland native, advocating for Oakland's Black community started at a young age.
"I grew up in Oakland. I used to go to protests as a kid. My grandma, she was heavily involved with the Panthers," shared Guapdad 4000 in an interview conducted with East Bay Express, along with Parham.
This isn't the first time Muntaqim and Parham have worked with Guapdad 4000. In 2020, as part of their People's Program—an Oakland based organization dedicated to unifying members of the African diaspora—they partnered together with PUMA to give shoes to 500 houseless people in West Oakland.  
"Both our neighborhoods, I would say, are ground zero for gentrification in Oakland. Me being from North Oakland, Guap being from the West. Our upbringing, our struggle and our purpose are what caused us to keep collaborating in these ways," Parham reflected. 
A big theme of the Tales of the Town podcast is the topic of Oakland's social condition, and the forces that have led to its history in activism. In "F*CK 12" FREESTYLE, Guapdad 4000 touches on everything from gentrification to inequities in small business loans and bipping.
"I think bipping is just one of the several side effects of extreme crime that people have resorted to as a result of this outstanding financial deficit," Guapdad shared when asked about the message he wanted to get across on the song. "It's just the result of people starving and willing to do whatever is necessary to fill that hole in their stomach," Parham added.
Though formatted as a series, the Tales of the Town podcast doesn't unfold in chronological order. Each episode focuses on understanding the circumstances that brought many Blacks to Oakland during the first and second great migrations, as well as the conditions they experienced when they arrived.
"The rest of this stuff ain't gonna make sense. The music episodes are not gonna make sense. The sports episodes are not gonna make sense. The analysis of Oakland Unified School District and Oakland Police Department is not gonna make sense if you don't got this foundational history," Parham emphasized. 
There's no such shortage of reporting on the outmigration of Blacks across the Bay Area. However, Parham stressed that while this may serve as a cautionary tale for Oakland, it is important not to erase those who have been able to maintain their presence in the communities their lineage has called home. 
"I just think we got to be real careful. Careful about the ways we talk about the decreasing Black population of places like Oakland or San Francisco, because oftentimes, folks will unintentionally erase that community." 
One unique relationship that has evolved as a result of this project is the connection between the Bay Area rap community and podcasts. Not only is Oakland's rap history celebrated, but artists throughout the region who may not be heard on the radio are able to take center stage to share their love of Oakland. Parham is optimistic about the future prospects of the project.
"I'm of the thinking that at Hella Black, if we can create some high quality dope stuff, while also understanding markets and business, we can make an impact and make some money."